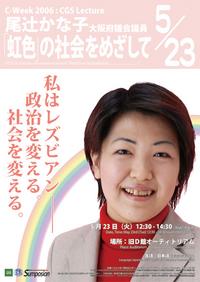 Time: May 23rd (Tue) 12:30 - 14:30 p.m.
Place: Auditorium, The Diffendorfer Memorial Hall
Outline: Ms. Kanako Otsuji, an assembly member, Osaka Prefectural Govt., was the first Japanese politician to publicly come out as a lesbian. She has spoken out in support of minorities in the Osaka
prefectural assembly, actively pushing for the legal protection of same-sex partners and raising issues such as the necessity of psychological care for young sexual minorities. In keeping with the C-Week theme of "wa", she will discuss, from the perspective of a public official, the difficulties faced in the attempt to achieve harmony through interaction with the self and through interaction with others.
CGS Staff