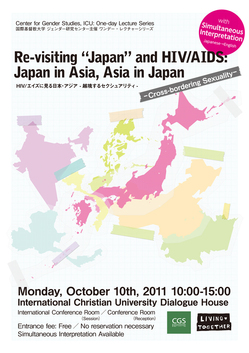 [One-day Lecture Series]
Re-visiting "Japan" and HIV/AIDS: Japan in Asia, Asia in Japan
Monday, October 10th, 2011
10:00-15:00
International Christian University Dialogue House
Session: International Conference Room
Reception: Conference Room
Entrance fee: Free
No reservation necessary
Simultaneous Interpretation Available
In this lecture series, we will gain an understanding of the situation of HIV/AIDs occurring in Asia while referencing approaches to HIV/AIDS in Japanese society from the angle of medical treatment and assistance. Additionally, emphasis will be placed on "Japan in Asia" and "Asia in Japan," tracing the patterns of diversification and the increase in transnational migration of peoples. We will face HIV and AIDS, exploring how to interact with others who will become increasingly necessary in the future.

[Program]
10:00 - 11:20 Session 1
"HIV/AIDS in Asia"
Lecturer: HATORI Jun
International Division, Japanese Network of People Living with HIV/AIDS (JaNP+)
Delegate from Japan, Asia-Pacific Network of People Living with HIV/AIDS (APN+)
11:30 - 12:40 Session 2
"Field Report from Medical Circle"
Lecturer: SAWADA Takashi
(Certified) Services for the Health in Asian & African Regions (SHARE)
Doctor, Minatomachi Medical Center

12:40 - 13:40 Lunch-time and Reception
Living Together in ICU
13:50 - 15:00 Session 3
"MSMs in Japan/Asia"
Lecturer: ICHIKAWA Seiichi
Professor of Communicable Disease Epidemiology and Control. Nagoya City University, School of Nursing.
Chief researcher,Study Group on the Development of Community-based HIV Prevention Interventions for MSM,Funded by a Health and Labour Sciences Research Grant.
*The "Living Together Project" purpose is to share the reality that "all people live alongside HIV" and address this reality from perspectives associated with diversity. This event will appear at ICU. There will be readings of memoirs by HIV-positive people and those surrounding them as well as musical performances. Your attendance is welcome!
【Living Together Project】
http://www.living-together.net
Event sponsored by: International Christian University Center for Gender Studies (CGS)
In Co-operation with: Living Together Project