The CGS stands for the Center for Gender Studies at International Christian University (ICU) in Tokyo. Established in April 2004, this center offers a new communication space to anyone who is interested in the issues of gender and sexuality.
The CGS has three major goals. First, we will break away from passive strategies that rely mainly on consuming information from the western world. Instead, we will work to actively collect and convey relevant information in Japan to the rest of the world. Second, we will work to build networks with and among people in Asia who are interested in women's/ men's/ gender studies. Third, we will support the Program in Gender and Sexuality Studies of ICU, which has launched a new stage of gender studies by including the natural sciences.
Please keep in touch with us.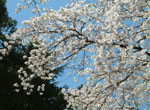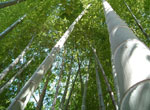 Scenery of the campus of ICU
The Books and Audio-visual Aids Lending Service
CGS has books and audio-visuals related to gender topics.
There are a wide variety of books. Books are recommended by CGS-affiliated faculty that range from introductory explanations of gender to academic pieces employing gender analysis as a key method of critique. Selected DVDs related to Gender Studies will be added as well.
We provide the Books and Audio-visual Aids Lending Service to make resources available for students, faculty, and staff at ICU. Those who would like to only read the books are welcomed as well.
Access to CGS
Directions to ICU:
•New Tokyo international Airport(NARITA) - (NARITA EXPRESS) Shinjuku Station - (Chuo Line) -Musashisakai or Mitaka Station
•Tokyo Station - (Chuo Line) -Musashisakai or Mitaka Station
Circumference guidance
•Exit Musashisakai, south side, take bus #93 for ICU at No.2 bus stop or taxi.
•Exit Mitaka, South side, take bus #51 for ICU at No.3 bus stop. (Terminus is inside campus)
» also refer...
Bus timetable with campus map (as of 2010, Aug)
Directions to ICU
Directions inside the campus:
CGS is located at rm#301 in the Education and Research Building (ERB)
(indicated with #5 in the map below)
» Campus Map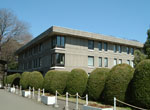 the exterior of the ERB
Center for Gender Studies, International Christian University
ERB1-301, 3-10-2 Osawa Mitaka Tokyo
181-8585 JAPAN
Tel: +81-422-33-3448
Fax: +81-422-33-3789
Email: cgs_icu.ac.jp(replace_with@)
Website: http://subsite.icu.ac.jp/cgs/en/(From 7 February 2018)
facebook Page: https://www.facebook.com/icu.cgs
Twitter: icu_cgs
(Last Updated: 7 February 2018)