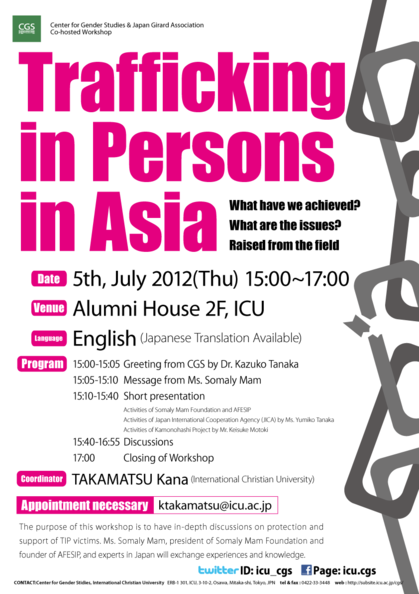 Center for Gender Studies & Japan Girard Association Co-hosted Workshop
Trafficking in Persons in Asia: What have we achieved? What are the issues? Raised from the field
The purpose of this workshop is to have in-depth discussions on protection and support of TIP victims. Ms. Somaly Mam, president of Somaly Mam Foundation and founder of AFESIP, and experts in Japan will exchange experiences and knowledge.
Date:
5 July, 2012, 15:00-17:00
Venue:
Alumni House, 2F International Christian University
Language:
English/Japanese
Program
15:00-15:05 Greeting from CGS by Dr. Kazuko Tanaka
15:05-15:10 Message from Ms. Somaly Mam
15:10-15:40 Short presentation
Activities of Somaly Mam Foundation and AFESIP
Activities of Japan International Cooperation Agency (JICA) by Ms. Yumiko Tanaka
Activities of Kamonohashi Project by Mr. Keisuke Motoki
15:40-16:55 Discussions
17:00 Closing of Workshop
Advanced reservations required
ktakamatsu @ icu.ac.jp
*28th June,2012 updated
Workshop reservation being fully booked.