November 2007 Archives
This is an experimental post.
In this section, we will start posting information about outside events, activities, etc.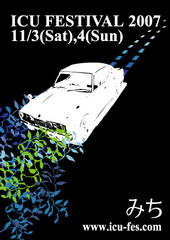 CGS will host a bake sale from 10:00 a.m. to 4:00 p.m. on November 3 and 4th at the ICU Festival. Homemade muffins, cookies, rice crispy treats and brownies will be available for sale. We will also have some fun games for children. We will set up our booth near the university church. Look for our rainbow flag!
for details:
http://icu-fes.com/
November 1, 2007 12:30 AM