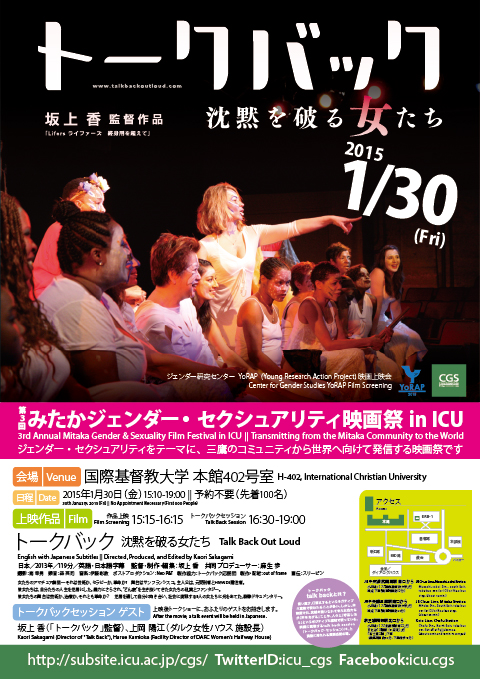 Transmitting from the Mitaka Community to the World
Date:
30th January, 2015(Fri) 3:10p.m. - 7:00p.m.
Place:
Honkan 402, ICU
TALK BACK OUT LOUD (トークバック 沈黙を破る女たち)
Film Screening 3:15p.m. - 5:15p.m.
Talk Back Session 5:30p.m. - 7:00p.m.
http://www.talkbackoutloud.com
Documentary/119 minutes/English with Japanese Subtitles/Color/2013/Japan/(c)out of frame
Directed, Produced, and Edited by Kaori Sakagami
Production Team: Ayumi Aso (Co-Producer), Yukio Minami (Cinematographer), Eiji Mori (sound Engineer), Akinori Ito (Sound Artist), Neo P&T (Post Production)
A new documentary film by an award-winning Japanese filmmaker Kaori Sakagami, TALK BACK OUT LOUD unfolds stories of women with HIV/AIDS who were victims of life-long violence. These women became "Thrivers" from survivors through a process of creating a paly based on each of their own experience. The film features eight women belonging to The Medea Project: Theater for Incarcerated Women, an all-women amateur theater group which originated in the San Francisco jail.
After the movie, a talk event will be held in Japanese.
Kaori Sakagami (Director of "Talk Back")
Harue Kamioka (Facility Director of DARC Women's Halfway House)