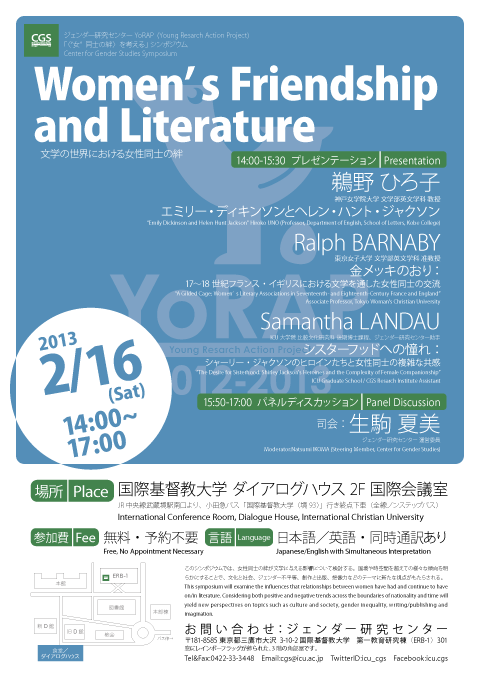 Date: 16th February, 2013(Sat) 2:00p.m-5:00p.m. (Open 1:30 p.m.)
Place: International conference room, Dialogue House, International Christian University
Host: Center for Gender Studies, International Christian University (CGS@ICU)
Coordinator: Samantha LANDAU(ICU Graduate School / CGS Resarch Institute Assistant)
Fee: Free, No Appointment Necessary
Language: Japanese/English with Simultaneous Interpretation
This symposium will examine the influences that relationships between women have had and continue to have on/in literature. Considering both positive and negative trends across the boundaries of nationality and time will yield new perspectives on topics such as culture and society, gender inequality, writing/publishing and imagination. 
---
2:00p.m. - 3:30 p.m. Presentation
Hiroko UNO (Professor, Department of English, School of Letters, Kobe College)
Emily Dickinson and Helen Hunt Jackson
Ralph BARNABY (Associate Professor, Tokyo Woman's Christian University)
A Gilded Cage: Women's Literary Associations in Seventeenth- and Eighteenth-Century France and England
Samantha LANDAU (ICU Graduate School / CGS Resarch Institute Assistant)
The Desire for Sisterhood: Shirley Jackson's Heroines and the Complexity of Female Companionship

3:50p.m. -5:00p.m. Panel Discussion
Moderator: Natsumi IKOMA (Steering Member, Center for Gender Studies)