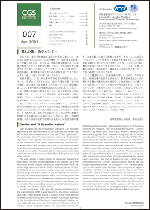 The seventh issue of the CGS Newsletter is now available both in print and online. Click the URL to download the PDF version. All the articles that appear in this issue are summaries of the full texts,
some of which are now available online. Click "C. Feature: Newsletter 007" in the column on the left side of this page to read these texts.
The rest will be uploaded successively.
Contents of the CGS Newsletter 007
Gender and "A Beautiful Nation"
Yumiko MIKANAGI
Professor, ICU
IWS2006 Full Report
Etsuko KATO
IWS 2006 Coordinator, ICU
"Body Knowledge and Performance"
Ikumi KANEKO
Undergraduate Student, ICU
Constitutional Amendment and Gender
Noriko ISHIDA
Lawyer
The Meaning of "Work"
Ryo HIRANO
Graduate Student, ICU
"Dating Violence - Love with Mutual Respect"
Mai EBIMOTO
Undergraduate Student, ICU
My Future as an Ordinary Gay Man
Akaboshi
Gay/ Activist
NEWS REPORT: The Shinkiba Incident
Yasunobu AKASUGI/ Wataru ISHIZAKA
Representatives, Tokyo Metropolitan Gay Forum
JAQS Launch!
The Initial Working Group of The Japan Association for Queer Studies (JAQS)