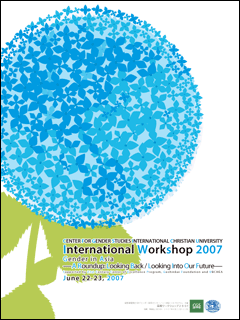 Yumiko MIKANAGI
ICU Professor/ IWS 2007 Coordinator
【The article below is the same as the article that appears in the eighth issue of the CGS Newsletter.】
From June 22 to 23, CGS held a workshop to round up our three previous international workshops on "Human Security and Gender in Asia," the first of which had been held in the fall of 2004. The main purpose of this workshop was to summarize our results so far, as well as to explore the future directions of CGS-based gender research and educational activities. Eight participants from overseas and three from Japan were invited.
On the first day, the guest speakers were asked to re-read the papers which they had presented at the previous workshops in the past and report on any new findings. The reports were divided across three separate sessions (social sciences, humanities, natural sciences) according to the perspectives of Asia, Gender, and Human Security. On the second day, the morning session was on "Gender and Colonialism in Asia." In the afternoon, the speakers were invited to select a number of issues for free discussion.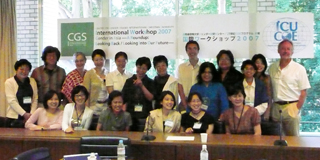 Among the many important discussions during this workshop, one particularly interesting topic was the idea of "Colonialism of the mind," which featured in both the morning and afternoon sessions of the second day. The discussion highlighted the powerful influence of colonialism, so deeply ingrained in people's minds that it cannot sufficiently be expressed by the narrow sense of the term "colony." The passionate debates that unfurled among all of the participants clearly showed how central this theme is when considering gender in Asia. Another essential perspective was the recognition of power in the discussion of "physical beauty" (which involves the process of defining, and redefining beauty). How, where, and by whom is this power exercised? In fact, the historical process of this power runs parallel to that of colonialism and is an issue which requires detailed explication in future research.
There were three central issues that emerged from this workshop. First of all, the importance of bringing religion into perspective, which has frequently been brought up in the previous workshops also, cannot be stressed or discussed enough. Secondly, a significant issue on the second day of the workshop was the problem of discussing gender in Asia through a Western medium, that is, the English language. The fact that discussions of Asia from an Asian perspective are filtered through a Western language is a problem that requires continuous critical examination. Lastly, CGS member Etsuko Kato had expressed concern after the last workshop over the problem of defining "Asia" (Gender & Sexuality, 2006, Vol. 2, p. 96), and participants here were also increasingly conscious of what it meant to be discussing gender issues "within Asia." This issue must continue to be addressed as long as CGS is a space for considering gender issues from an Asian perspective.