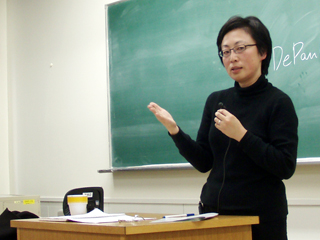 Yuko SASAKI
ICU graduate
【The article below is the same as the article that appears in the eighth issue of the CGS Newsletter.】
Ms. Miho Matsugu, an assistant professor at DePaul University, Chicago, gave a guest lecture, entitled "Embarking on Motherhood as a Lesbian in the U.S." for the course 'Gender Relations' on December 18, 2006.
She recounted the various phases that she and her partner Anne had undergone as a lesbian couple in the process of pregnancy, childbearing and parenting. Matsugu found her life in the U.S. entering a new phase when her partner of almost twenty years confessed her wish to have a child. Matsugu had long felt discomfort about, and resistance to, the so-called "ordinary life plan" predominantly comprised of marriage, childbirth and family. Thus, Matsugu prepared herself for what lay ahead with a host of questions --- Why do you want to become a mother? Do you feel that there is something missing in your life when you share it only with me?
Matsugu's detailed report of her experiences provided a glimpse into the difficulties of lesbian couples as they attempt to build their lives with a child in the face of systemic, social and cultural obstacles. In the Q&A session afterwards, a student in the audience declared that the lecture had been "very inspiring." Indeed, the experience of these lesbian mothers provided great encouragement for other non-heterosexual couples who wish to follow in their footsteps. Matsugu and her partner's experience, however, should not be summarized merely as a story of empowerment.
Her partner, as the "childbearer," experienced what it was like to begin motherhood through the actual physical process of childbearing and parenting, thus fostering a love for their baby daughter. On the other hand, Matsugu, as the "non-childbearer," was alienated from those experiences, and left with a very basic doubt regarding how to develop a relationship with her child or indeed whether it was possible at all. The "family" was compelled to move to Chicago, where gay couples are granted parental custody, in order to secure the relationship between Matsugu and her daughter, which otherwise could not be guaranteed by physical relationship or legal protection. Their experience sheds light on parenthood itself and reveals how it has been a privilige conferred upon sexual relationships enjoyed only by legally protected, heterosexual couples.
Yet, I thought that Matsugu's case was accommodated within the still inadequate but improving social system. This is because theirs is a one-on-one lesbian relationship which is accepted to some extent by society due to its similarity to that of monogamous, heterosexual couples. Their financial stability was also an important factor. Then, how about those who are even more socially marginalized and do not fit within the social system? Although intimate relationships and parenting vary much more than generally assumed, why is it that only one type of relationship is justified and protected? And what do we learn when only the relationships that are considered unthreatening to this form--monogamous, heterosexual relationships-- are promoted and granted more rights and protection? I do not claim to attribute all the problems we face to the current system. Yet, is it really impossible to elevate the status of the disempowered people so as to achieve full equality with heterosexuals and those who similarly enjoy the benefits the society offers, while trying to throw the authority of the system itself off balance?
There will inevitably be more challenges awaiting Matsugu as her daughter grows up. I hope that she will share her experiences, difficulties and discoveries with us again.