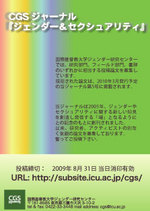 The Cnter for Gender Studies, International Christian University, welcomes submission of unpublished research papers, field repots and book rebiews. Articles currently received will be considerd for inclusion in the forth issue scheduled for publication in March 2009.
Submission Deadline:August 31,2009
Journal Regulations for vol.05
Launched in 2005, the CGS journal, Gender and Sexuality, is designed to bring together researchers and activists from theoretical and practical collaboration, and to disseminate information from Japan and Asia to the world. It is our hope that this journal will become an innovative, dynamic forum for challenging existing concepts and stimulating lively debate.