【The article below is the same as the article that appears in the twelfth issue of the CGS Newsletter.】
ALS (Amyotrophic Lateral Sclerosis) is a serious neurodegenerative disease which affects nerves cells in the brain that are responsible for controlling muscle movement. As yet, there is no effective treatment for this progressive disease, which means the patient's condition increasingly worsens. Patients eventually develop paralysis in their respiratory muscles and find it difficult to breathe. Without medical assistance, they will most likely die. Currently, the only option for survival is mechanical ventilation. But less than 30% of patients diagnosed with ALS choose to use ventilators. Female patients are particularly reluctant. In the following text based on a conversation with Ms. Yumiko Kawaguchi, who is involved with two Tokyo-based nursing organizations, let's take a look at the significance of these statistical figures. CGS Editor
■Introduction
When first diagnosed with ALS, patients are primarily taken care of by their families, and do not receive much public support. So if they develop paralysis in the respiratory muscles, they can only choose to use a ventilator with the consent of their family members. Although mechanical ventilation is supposedly a patient's independent decision, in reality, it is basically a family decision. An ALS patient on a ventilator needs 24-hour nursing care, so it is not an easy choice for families to make.
■How I became involved with ALS patient care
I am a senior member of Sakura-kai, a Tokyo-based patient's advocacy group, as well as Care Support Momo, a nursing care staffing agency. I became involved in ALS patient care and support after my mother was diagnosed with ALS in 1995 and I took responsibility for her care.
Sakura-kai started a training program for home carers in 2003 and was incorporated as a nonprofit organization in the following year. Also, we have an ongoing government-sponsored research project and an IT support program. In the past six years, more than 800 trainees have received certificates of completion through our program, so we have significantly contributed to increasing the number of professional home carers at the grassroots level.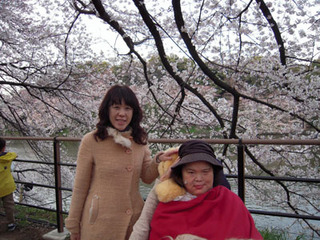 My mother had ALS for 12 years and passed away in the fall of 2007. The director of Sakura-kai, Misao Hashimoto, has had ALS for 25 years, 18 of which she has been on a mechanical ventilator. Yet, she is still actively involved in providing support to fellow patients. She was the first ALS patient in Japan to successfully live alone, despite her complete dependency on a ventilator and nursing care (although she has some control of her mimic muscles and her middle toe). Living alone on a mechanical ventilator requires over 744 hours per month (24 hours per day) of nursing care provided by nursing-care insurance, support from many people including the cooperation and understanding of local health services, as well as self-management by the patient. It is surely an amazing achievement that Hashimoto has established such a complete care system around her, despite her dependence on a ventilator and complete nursing care.
■Conditions for Survival
When patients are first diagnosed with ALS, they and their families are rarely able to accept and understand all of the treatment that will be required, such as tube feeding and ventilation. That is why doctors and social workers only provide the information step by step, so that patients and their families will find it easier to understand what is involved. Informing patients and their families of the need for mechanical ventilation and long-term treatment is tantamount to informing them of the conditions for survival. These conditions include both medical and lifestyle requirements.
The medical factors include the possibility that patients will require tube feeding (in the case of swallowing disorders) and ventilation (in the case of paralyzed respiratory muscles). In addition to this shocking news, patients and their families are also immediately informed of how the disease will affect aspects of daily life.
First of all, they are informed that patients will most likely need to be cared for at home since there are very few hospitals that can accommodate long-term patients. That means the families are asked if they have the financial resources to cover living expenses and the cost of nursing care, a family member who can provide full-time care, and adequate space at home to house and care for the patient. If a family cannot fulfill these conditions, the patient will be denied long-term treatment, including mechanical ventilation.
And who has all these privileges??usually they are male patients who own a house, live on a pension, and have a full-time housewife.
But this is no surprise. Those with a full-time housewife who will just need to switch their status to that of a full-time caretaker, have the right to ventilators, long-term treatment, and, ultimately, life. It is not only housework, but also nursing and care, that are considered to be women's work, and so men are much more likely than women to undertake mechanical ventilation.
■Female Patients and Female Home Carers
The gender gap not only exists among ALS patients but also their families.
For example, in the past week, we were contacted by two women who were both daughters of female ALS patients. The first call came from a woman in her twenties from Nagano. She has been taking care of her mother at home, with the help of a sister who lived nearby. Her father works abroad and hasn't been back. So she had had to take her mother to work everyday and bring her home to take care of her and sleep right beside her. Without the help of her sister, who had a relatively flexible schedule because she ran her own business, she could not have done it. But now that her sister is pregnant, she must take care of her mother alone. As the eldest child she feels obliged to do it no matter what, but she is not sure if she can do it all by herself.
The second call was from a woman in her forties who had recently been told by her doctor to make a final decision as to whether her mother, who is in her seventies, should use a ventilator. She wants her mother to live, but doesn't know what to do. She is on leave from work at the moment, her father is too old to take care of her mother, and her hard-working brother does not have the time.
When patients have devoted daughters like these women, it is uncommon for the family to equally share the burden of nursing care. Good-tempered women are expected to take good care of their mothers as if it were a matter of course. Besides, the two women do not feel taken advantage of even though they are the primary caretakers. They take it for granted that it is no use asking men to do housework or to take care of the family, and so, they feel that they should just find some way to provide home care all by themselves. On the other hand, men who know they aren't expected to help, don't bother.
With regards to the patients themselves, female patients are more likely to refuse to use ventilators. They do not want their husband or children to take care of them. They feel devastated because "taking care of the family" has always been their responsibility.
But male patients are quite opposite; even if they refuse ventilation at first, as their wife and children take good care of them they will often change their mind and finally accept it. In this way, the issue of home care for ALS patients reflects the reaffirmation of "love" and gender norms in the family.
However, this status quo continues to let female patients die and let their daughters miss out on opportunities such as employment and marriage. Of course, making decisions about ventilators isn't as simple as if you're a man you'll do it and if you're a woman you won't (I am writing a book based on my own experience of taking care of my mother, which touches upon the complex issues surrounding ALS patients and families. It will be published by Igaku Shoin. I hope you'll enjoy it).
Anyway, I advised the two women by e-mail that there is an immediate way to reduce the burden of 24-hour care (probably by up to 50%) by using both nursing care insurance and the Support for Persons with Disabilities Act. I also told them that even more could be done by negotiating with their local governments. I hoped that my advice would alleviate the burden on the carers themselves as well as the psychological burden on their mothers. The mother-daughter relationship would then be healthy and supportive, and not burdened with sacrifice and guilt.
Hashimoto disdainfully says, "female patients cannot but die." But it is also female patients who know better about what they can do with public nursing care systems. The "Sakura model", exemplified by Hashimoto's independent lifestyle as an ALS patient, was first presented at a conference in Yokohama in 2006. Since then the Sakura model has attracted attention from Patients' Associations worldwide and is now regarded as effective and important as the Aarhus system in Denmark.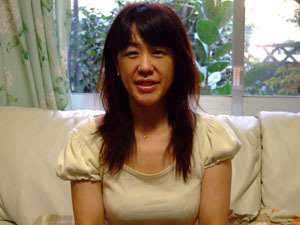 Yumiko KAWAGUCHI
Senior member, Sakura-kai / Representative Director, Care Support Momo Ltd. / Director, Japan ALS Association
Graduate Student, Graduate School of Core Ethics and Frontier Sciences, Ritsumeikan University
Her first book, Ikanai karada (A Body that Won't Die; tentative title), will be published in late November by Igaku Shoin.